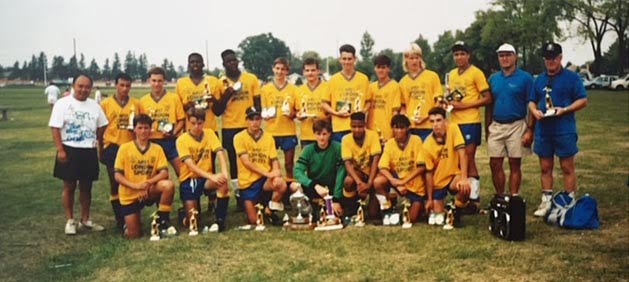 WEST LONDON STRIKERS 1991
U15 LDYSL LEAGUE & CHALLENGE CUP CHAMPIONS
Established in 1990, London United Competitive Soccer Club originated as West London Soccer Club. It began with just a few competitive boys teams initially then quickly expanded adding female teams to the club throughout the early 1990's. In 1994, West London Soccer Club reorganized and registered as a non-profit organization changing the name to London United Competitive Soccer Club.
London United Competitive Soccer Club "LUCSC" throughout the 1990's and 2000's became the largest competitive soccer program in London and surrounding area with 33 teams competing under the banner at its peak. LUCSC was the first London soccer program to compete in the Ontario Youth Soccer League which for 20 years was the highest competitive youth level of soccer in the province.
LUCSC has also competed in many leagues over its 32 years including:
South Region Soccer League (SRSL), London District Youth Soccer League (LDYSL), Ontario Soccer League (OSL), Peel Halton Soccer League (PHSL), Ontario Women's Soccer League (OWSL), London Area Women's Soccer League (LAWSL), Elgin Middlesex District Soccer League (EMDSL) & West Region Soccer League (WRSL).
London United Soccer Fields (1997 – 2018)
Formerly known as the London Psychiatric Hospital "LPH" fields, the fields are located on the corner of Oxford Street East and Highbury Avenue North. The 32 acres parcel of land was a part of the LPH complex that spanned over 150 acres. London United assumed control over the LPH fields in 1997 when it only had 6 full sized soccer fields.
Over the course of the next 15 years, LUCSC redeveloped the land to make an additional 3 full-sized fields and 9 mini-fields making it one of the largest soccer complexes in Ontario. LUCSC sub-leased the property off the City of London who had a working lease agreement with the Province of Ontario. LUCSC maintained the property for 21 years that included cutting grass, marking & lining fields, and general landscaping for the property.
John Henderson Memorial Soccer Tournament (1996 – 2018) – Labor Day Weekend
The Henderson Soccer Tournament was a staple of soccer for the City of London every Labour Day weekend for 22 years while LUCSC was the tournament host. The Henderson attracted upwards of 220 teams from all around Ontario, other provinces and USA. At its largest, the Henderson would fill up the majority of London and area hotel rooms and use close to 25 different fields on 6 different venues. The Henderson spanned a generation bringing quality youth soccer to the community every Labour Day weekend for 42 years!
London United Gryphons Girls 2009 -10 
EMDSL U13 District Cup Champions 2022
London United Competitive Soccer Club "LUCSC" has a history steeped in tradition that has created many positive and memorable soccer experiences for London and area youth and adults over the past generation. LUCSC is proud to offer grassroots, competitive youth and adult programming.
The COVID-19 pandemic caused LUCSC to have to pivot much of its offseason training that traditionally was offered through programming in school gyms and community venues. With those venues closed by public health mandates, LUCSC switched to remote training via virtual training, video drills and a competitive chart. These adaptations from the traditional in-person team training model allowed players to keep developing their soccer skills while in the safety of their own home. It is a model the club is focused on expanding by creating video and online content accessible to all its members who are keenly interested in further developing their soccer talents outside their team training program.
London United Competitive Soccer Club has always dedicated to providing the highest caliber of training and competition opportunities for the teams within the club at affordable pricing. LUCSC is continually focused on fostering a learning environment for our players to feel comfortable developing new skills and understanding of the game. Our club coaches and staff are all duly certified to coach their respective age categories. Several of our coaches have earned additional licenses with Canada Soccer as well as having professional playing experience in North America, Europe and around the world.
Contact us today for more information about our various teams and programs we are currently offering